Global Bio India 2019
Biotechnology sector is recognized as one of the key drivers for contributing to India's USD 5 Trillion economy target by 2024. Indian Biotechnology sector is poised to grow exponentially over the next decade. Policy initiatives of Government of India (GoI) such as Make in India program are aimed to develop India as a world-class Biotechnology and Bio-manufacturing hub. India is among the top-12 destinations for biotechnology in the world, with approximately 3% share in the global Biotechnology industry.
Indian Biotechnology industry's economy is valued at $51 billion during 2018-19 which improved from 2017-2018. The Bio economy registered 6.8% change from 2016 valuation of $41.64 billion. According to World Bank's Doing Business Report 2014-18, India is now ranked 1st among South-Asian countries compared to 6th rank in 2014. India was ranked 52nd according to the Global Innovation Index Report 2019.
Recognizing the importance of this sector, Department of Biotechnology (DBT), Ministry of Science & Technology, Government of India in partnership with its Public Sector Undertaking Biotechnology Industry Research Assistance Council (BIRAC), Confederation of Indian Industry (CII), Association of Biotechnology Led Enterprises ( ABLE) and Invest India has organized Global Bio-India 2019 from 21-23rd November 2019 at New Delhi. Global Bio India is a multi-stakeholder platform presenting strengths of biotechnology sector and showcasing India as a preferred destination for "manufacturing", "developing" and "innovation". Investors meeting, exhibition, webinars, hackathons, B2B meetings are few salient components of the event.
Global Bio India 2019 is attended by more than 2500 delegates, 200+ exhibitors including start-ups, medium and large industries, academic and research institutions. Global Bio-India 2019 showcased key biotechnological innovations, products, services, technologies from national and international companies, start-ups and research institutes to identify funding and collaboration opportunities for R & D and explore licensing options for existing products, attracting major contract projects from international companies as well as major global venture funding into India.
Apart from huge exhibition, Global Bio India 2019 provided platform to deliberate on the opportunities and key challenges in the areas of bio-manufacturing, capacity-building, creating global supply chains, investments, new technologies, IP led innovations, industry-academia collaborations for achieving a growth-oriented road-map for biotechnology sector in the country.
For more details please visit our website : www.globalbioindia.com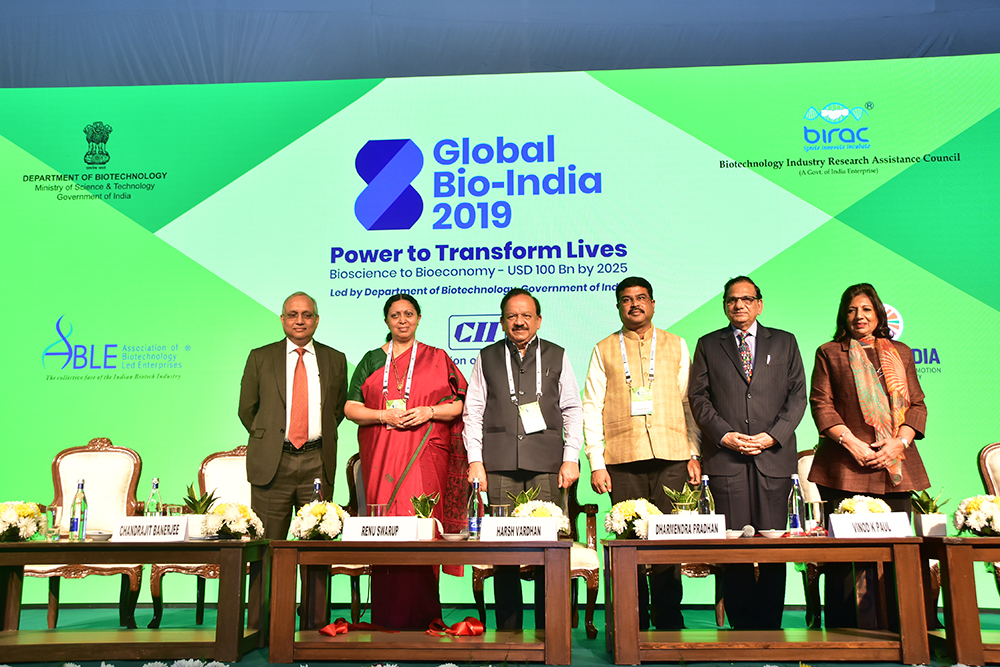 Shri Chandrajit Banerjee, Director General, Confederation of Indian Industry
Dr. Renu Swarup, Secretary, Department of Biotechnology, Ministry of Science and Technology, Government of India
Dr. Harsh Vardhan, Hon'ble Union Minister of Science & Technology Health and Family Welfare and Earth Sciences, Government of India
Shri Dharmendra Pradhan, Hon'ble Union Minister of Petroleum and Natural Gas Minister of Steel, Government of India
Prof. V K Paul, Member Niti Ayog
Dr. Kiran Mazumdar Shaw, Chairperson and Managing Director, Biocon
---
Dr. Alka Sharma, Advisor, Department of Biotechnology, Ministry of Science and Technology, Government of India
Shri B Anand (IAS), Additional Secretary and Financial, Department of Biotechnology, Ministry of Science and Technology, Government of India
Dr. Renu Swarup, Secretary, Department of Biotechnology, Ministry of Science and Technology, Government of India
Shri Piyush Goyal, Hon'ble Union Minister of Commerce & Industry and Railways, Government of India
Dr. Sanjay Singh, CEO & Executive Director, Gennova Biopharmaceuticals Ltd
Prof. V K Paul, Member Niti Ayog
---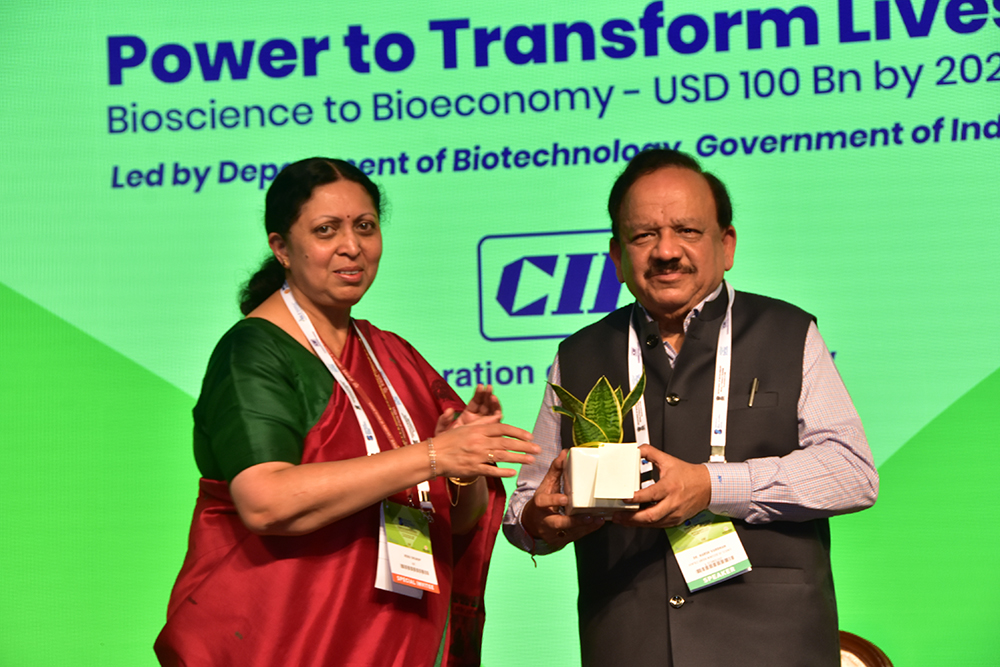 Dr. Renu Swarup, Secretary, Department of Biotechnology, Ministry of Science and Technology, Government of India
Dr. Harsh Vardhan, Hon'ble Union Minister of Science & Technology Health and Family Welfare and Earth Sciences, Government of India